Considering Jeff and I are already in the works of planning our 15th Anniversary trip for next fall (Oct 2019) I figured I should get to writing this long over-due blog post about our very romantic 12th anniversary trip to Turks & Caicos.
We were actually scheduled to stay in the Bahamas at the One & Only Club for that anniversary trip, but a devastating hurricane had hit near Nassau, Bahamas leaving our selected resort damaged and therefore closed during our stay. So with a week to go until we were scheduled to depart we called the airline to see if we could book another tropical destination and quickly find a hotel. Thankfully traveling in the Caribbean during hurricane season can be tricky, but also a steal of a deal too. We were able to re-book tickets to Providenciales, Turks & Caicos for a small change fee and after a quick pass-thru on TripAdvisor.com we decided to stay at the Gansevoort Turks & Caicos for our anniversary getaway.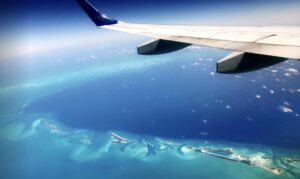 Flying into Turks & Caicos just past the Exumas
This hotel is drop-dead gorgeous. I've shared with numerous couples that it is hands down one of the sexiest hotels I've ever stayed at before. Gorgeous, tropical, private, and you basically feel like royalty when you roll-up. Your luggage is whisked away and you're comfortably placed on a comfy sofa with warm towels and a welcome drink. After a long morning of travel, sign me up! This is where the pampering began.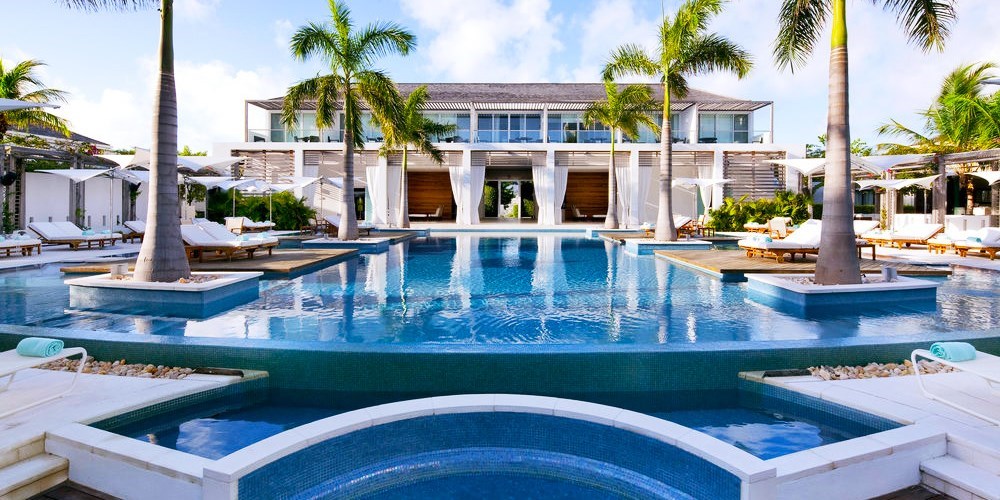 The Gansevoort Pool looking towards the lobby
This resort feels small and intimate. And during late October the resort was definitely not full. We were one of a dozen or so couples enjoying the resort. And the walk to our room was nothing short of breathtaking. The posh pool is gorgeous, although daily we opted for the beach. Grace Bay is consistently rated as one of the top beaches in the world, so we were not going to pass that up. Our room was located just on the other side of the pool on the top floor. We had a huge balcony overlooking the ocean where we could hear the waves crash. The room was well appointed and for just 4 nights, a king bed facing the ocean, a small sitting area, luxe master ensuite and an expansive terrace filled with comfy outdoor furniture, it was perfect. Had we stayed longer a more upgraded room with kitchen might have been better for preparing simple meals or snacks.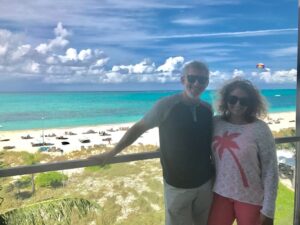 The view from our room balcony, taken by our luggage attendant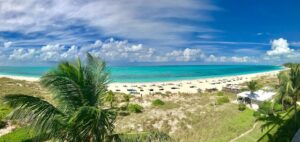 From our balcony… THAT WATER.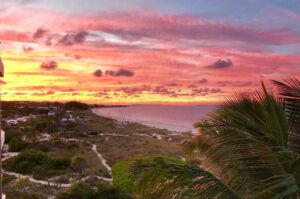 I cannot believe this sunset is real, no filter needed.
We chose to eat at the resort often. The food was good and fresh, albeit expensive, but you most remember you're on an island and you are at the Gansevoort. The Ceviche was amazing and the fresh garden salad at Zest! was one of my daily favorites along with the Rum Punch and the Funky Monkey. And if the beach bar wasn't enough there were always beach attendants ready to set up plush beach chairs for you equipped with a remote to buzz for your next beverage. And a visit to the beach bar in the evenings was typically filled with a casual musician on the guitar, a fire in the roaring fire pit, umbrella drinks and if you were lucky, a visit from GiGi, the Gansevoort adopted island kitty.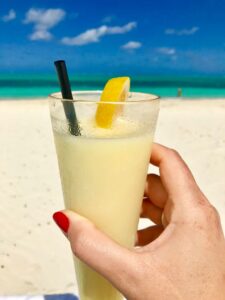 A Funky Monkey
After a long and rough day at the beach we often opted for relaxing on our balcony, watching the sunset and hearing the waves crash ashore. It was so peaceful and romantic. Two different evenings we opted to have dinner at the resort's restaurant, Stelle, which was wonderful. The fresh rock lobsters were outstanding and reasonable considering local in-season prices. For our anniversary we dined at La Coco Bistro, an island favorite named after their adopted island kitty, Coco, under the palms. Again, I had the in-season rock lobster, plus we split a dessert which was divine.
Sunrise from our balcony
We had one partially rainy day while in Provo, so we opted to take a taxi into town to shop and walk around. Taxis around the island are about $15-20 one-way. All drivers were friendly and very knowledgable of the area and quite eager to welcome you to their island. Shopping was typical island shopping with lots of jewelry and t-shirts, but we did happen upon Potcake Place, a re-homing shelter for island pups in need and they seriously love tourists to come in to socialize and play with the puppies. In fact, you can even take a puppy to play on the beach or go for a walk. If it had not been raining I might have made it out the door with this guy. It's no surprise, that many of these pups go home to live in the US with new owners after visiting Potcake Place. I mean, I could hardly say "no" to this face and we had just met!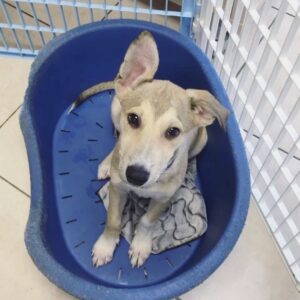 On our last night on the island we splurged and chartered a boat out of the marina for a sunset cruise. Our boat captain was super friendly and knowledgable, taking the time to show us around his island. He even let us off the boat onto a private island and nature preserve giving us instructions to "walk across to the other side of the island" so we could see where the Atlantic Ocean met the Caribbean on Half Moon Bay. It was quite possibly the most gorgeous water I have ever seen.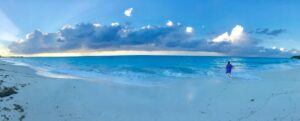 Walking out into Half Moon Bay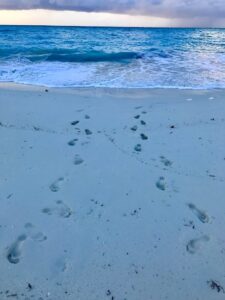 All-in-all, the Gaansevort Turks & Caicos was one of our favorite and most romantic vacations. We haven't done a lot of anniversary trips, but hands down this was the best so far. The views, the water, the people, the low-key pace, it was just perfect. If you're planning a future tropical anniversary getaway this magical place should be on the very top of your list!