In many way I cannot believe I didn't eat oats or oatmeal for nearly three years. I had sworn off grains thinking they were causing me intestinal distress or bloating, but I know now that couldn't be further from the truth. But that's a whole other topic and post. So since moving to a more plant based lifestyle I had to start trying some grains to complete my diet, still all gluten-free, but oatmeal was one of the first grains up to try and guess what, no issues. In fact, it tasted amazing and I was full for hours, so oatmeal and eventually this overnight oat recipe, once I had it perfected, became a morning favorite.

I often make this breakfast up 2-4 servings at a time, like a little assembly line on Sunday evening, and then store them in the fridge for a quick grab & go breakfast during the week. I prefer this recipe as my base because it's always easy to add fruit or nuts before eating–I just don't like soggy fruit or nuts sitting in my cold oatmeal.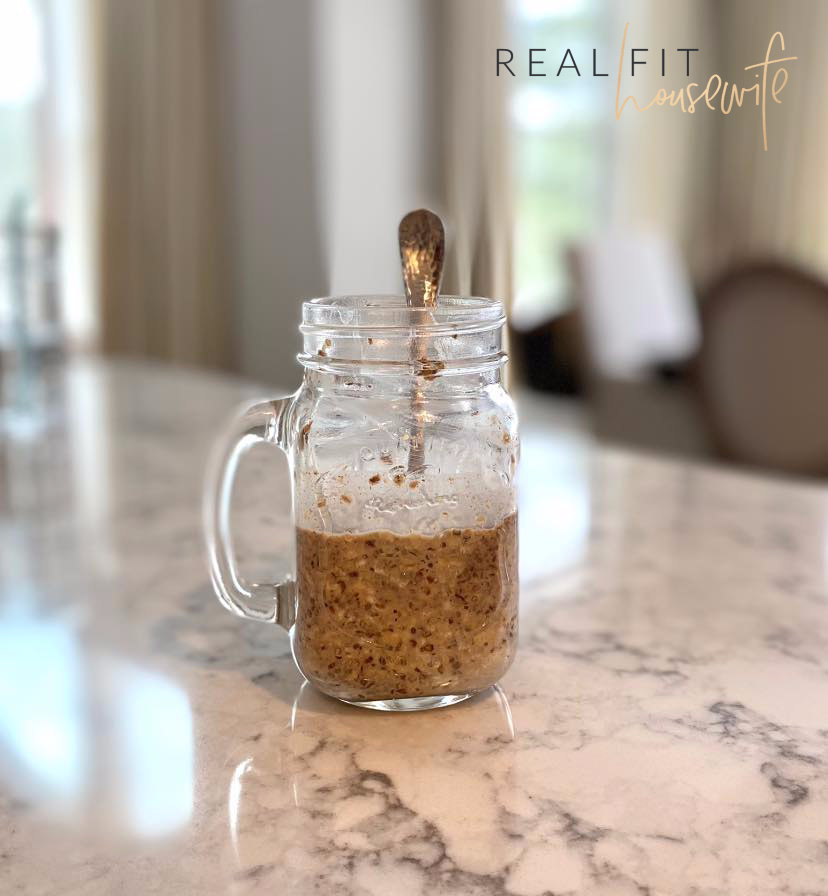 INGREDIENTS:
4tbs quick oats
4tbs old fashioned oats
2tbs hemp hearts
2tsp chia seeds
1tbs ground flaxseed
1tsp vanilla
1tsp cinnamon
1/2tbs maple syrup
3/4cup oat milk, or milk of choice

DIRECTIONS:
1. Combine all dry ingredients, stir.
2. Add in vanilla, maple syrup & milk, give it a shake.
3. Store in fridge overnight.
4. Eat the next morning or store up to 5 days!

I honestly enjoy my overnight oats cold, but if you prefer you can warm them up. Then add fruit, nuts, etc… I do buy all of my oats organic & gluten-free. I like Bob's Red Mill oats, chia & flaxseed best. I buy Manitoba Hemp Hearts at Costco currently. And I found the cute glass jars with lids at my local dollar store.

So here's to creating your own overnight oats using my favorite recipe, they are truly the easiest breakfast for busy mornings and my entire family loves it and enjoys adding in their own toppings… blueberries for Jeff, chocolate chips for Audrey & peanut butter drizzle for Finley. I just like mine cold right out of the fridge, ha! You'll have to let me know how you enjoy yours.