After completing Shift Shop and getting some pretty insane results if I do say so myself I knew I wanted to keep up with the program that had really started to reshape my body, but in an effort to mix things up and not get bored during another 3 week round I decided to pair Shift Shop with another favorite program, PiYo.
I love Shift Shop for it's quick conditioning cardio and sweat inducing strength workouts, but I knew adding in some stretching and core work with PiYo was going to be great for my occasionally sore neck. Yes ladies, at 39, my neck is sometimes sore.
Here's my 3-Week Shift Shop/PiYo hybrid: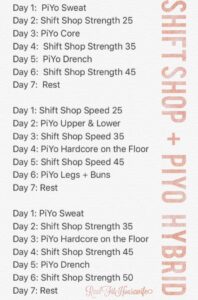 And if you try it, I'd love to hear what you think. Just leave me a comment below and let me know what your results were like. I feel like mine just keep getting better & better. In fact, I just started a new Brazil Butt Lift/Shift Shop hybrid, so stay tune for more Shift Shop hybrid coming up for the rest of this year. Namaste!