There is nothing I love more than ice cream on hot summer nights, but truth be told ice cream and my stomach do not get along. Honestly, too much dairy or sugar and I completely regret and almost hate ice cream. But I'm a woman and occasionally my sweet tooth has a hankering, so I conjured up my own Summer Shakeology Ice Cream recipe to share with you. In fact, this is one my whole family will eat too.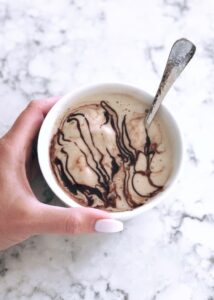 Summer Shakeology Ice Cream
Ingredients
– 1 scoop vegan vanilla Shakeology
– 1/2 cup coconut milk (or milk of choice)
– splash of water, to help it blend
– a pinch of Xanthum gum (you do not need much!)
– 3 drops stevia-based caramel extract
– lots of ice (I use two handfuls)
– stevia based chocolate sauce (optional)
Directions
– I combine all of these ingredients in my blender
– Blend on med-high for 45 seconds to 1 minute
– You may need to occasionally pause and open the blender and help the ice move
Serve ice cream in a dish. Toppings are optional. I couldn't help but drizzle a bit of chocolate sauce onto my ice cream to make it really feel like a summer treat though!
ENJOY.