Me: C'mon in!
You: Oh, should I take my shoes off?
Me: Not if they make your outfit! Would you like coffee or tea? Let's sit by the fire… and would you like a Gluten-free Christmas cookie?!
That's Christmas at our house and let me tell you celebrating the holidays in our new home has been amazing! I got to work decorating right after Thanksgiving. I knew it was going to take some time. We needed to move furniture and then erect our new 12′ Christmas tree. I took me 2 hours to fluff and shape this tree, but once she was up and plugged in… I was in love!
Then I had to get to work decorating our tree… bottom to top on a 10′ ladder where I often wondered "Am I scared of heights?" and "Why did I get a tree this big?" But in the end, she's stunning and I'm basically convinced I need to re-create this tree year after year.
It didn't stop there though… stockings, lanterns, candles, garlands, all the Christmas decor and MORE. In fact, I ended up with five fabulous Christmas trees around our home. The 2nd tree was all white and found it's home in my girl's perfectly posh playroom and we decorated it up with every Paris-inspired black, white & pale pink ornament we could find. It was just adorable! I found the 3rd tree at Home Goods and after having a store employee drag it across the store for me to plug it in and ensure it lit up, I bought it & brought it home. It's a flocked tree, sits in a stand and already had some bulbs and berries wired on it, so I just wired on more plus ribbon! It was just perfect for the space in our sun room. The 4th tree was our basement Christmas tree, which may have been a favorite of nearly everyone who made the trek downstairs to see it. It wears a top hat, has a bit of an equestrian vibe and my girls loved it's classic Christmas feel. But then, our master bedroom just felt bare. Neglected. So I made a quick trip to Kmart (going out of biz sale!) and happened to snag a 7′ pencil tree for a $60 deal, brought it home and decorated it up to coordinate with our bedroom.
At this point I'm fairly certain my husband had thought he was going to have to have me committed for being addicted to Christmas decor. Almost every inch of our home had a touch of something somewhere. But in the end, after two weeks of non-stop decorating it was done and we could just ENJOY. Enjoy it with family and friends and reflect on the blessing of the season.
After these photos were shot and I got proofs I just sat there thinking, "Woah! We've only lived here for six months and we've created THIS for Christmas!" I just felt overcome with gratitude. It's a time of year where we do a lot of celebrating, continuing traditions, starting new ones and paying forward our many blessings. So I hope you will stay and enjoy Christmas with us…
Come on in and enjoy some coffee with me by the fire…
I think any other tree would have just felt TOO small. This 12′ beast fit the bill perfectly and while I could have probably done a 14 footer… I'm glad I didn't have to take my husband's huge ladder any higher!
To me, Christmas has always been about going a little over the top. Adding just a little more sparkle, glitter and shine.
I designed the main floor of our home with a whole "rustic glam" vibe, so I said I was going to do the exact same for Christmas! Everything purchased for this room was bought with that in mind.
So warm & cozy.
Ahhhh… symmetry. Just gets me all giddy.
Even our sliding barn door got a little touch of Christmas with a rustic wreath.
I almost needed a picture shot at night… this doesn't quite capture of sparkle & light of this tree.
Our sunroom got a little holiday make-over too.
Christmas red, leopard prints, plaids, cozy throws & velvet.
Little details have my heart.
Candlelight and Christmas trees!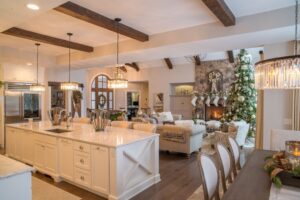 Now imagine it filled with family & friends gathered around the island, because that is ALWAYS where everyone is no matter the party we host.
I do not know if this was totally fire dept approved. However, the real cedar garland looked & smelled amazing and since it was so high… never was a fire hazard!
So simple, but perhaps one of my favorite holiday touches… swags of cedar garland!
An old wooden tray decked out with loads of greens & fresh winterberry, plus 3 sparkling candleholders was the perfect centerpiece for our table.
Me + Plaid ribbon = Kinda obsessed.
Our back hall most definitely had a very woodsy theme.
Gimme all the gold & candlelight.
I think the horses approve.
These orbs!!! They're truly meant to be hung, but when I saw them… I just knew I needed one on either side of my fireplace. I purchase lightweight cement pots to place them on, filled them with floral foam, added fresh greens, then the orb, glass hurricane, candle and VOILA.
I am in love with how these turned out!
Yes, yes… even our master bedroom had to have a little glow!
Wintery and warm.
The tree reflecting in that mirror with those lanterns… just perfect.
I love my glitter swan… she wears a fur cape. And leaves glitter all over, everywhere, every year.
Our basement was completely filled with fur, Christmas reds & plaid, cable knits, velvets, glittering golds, chunky knit wools and everything buffalo plaid.
Oh Christmas plaids…. Oh Christmas plaids…. you make my heart so merry.
Cedar garlands wrapped our entire stairway.
Of course I even had to "Christmas-up" my husband's bar with a few things!
All the little touches make Christmas special to us.
Like glittering reindeer and old santas.
Even our home gym got a little Christmas decor.
Urns & wreath by me. I LOOOOOVE outdoor decor just as much–I'm a total gardener at heart.
Snowy and serene in December.
An old sled, basket, cozy throw and toss pillows warm up the front porch.
What you do with all of your leftover greens…
toss 'em in a basket with branches for an effortless look!
Wreaths with big bows hang from wire coat hangers shaped around
our lanterns on either side of the garage.
Thanks for stopping by. I hope to see you at Christmas next year!
There is no holiday I love more than Christmas because it is a time to give, reflect, be blessed, bless others and share in the joy of Jesus. So from our family to yours, Merry Christmas and may your New Year bring you bountiful blessings.