Our favorite summer holiday has got to be 4th of July. Extended time with family, enjoying the small town patriotic parade, time at the lake lighting off fireworks and making s'mores, plus my favorite part… barbecues, fresh fruit & veggies in season and making some of my favorites recipes for family. I love summer cooking. Perhaps because most of it can be done without the oven or just because it's so fresh and often straight out of the garden, but I wanted to share just a few of my favorite 4th of July recipes with you.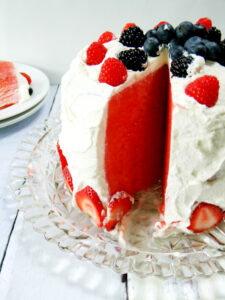 recipe via Pinterest

FRESH WATERMELON CAKE
| Serves 12 |
Ingredients:
– one whole seedless watermelon
-3 cups heavy whipping cream
-1/2 teaspoon vanilla
-2 tablespoons Swerve or confections sugar
-assorted fresh berries
Directions:
1. First whip your cream with your sugar and vanilla.
Whip until you have nice stiff peaks, then refrigerate newly made whip cream in bowl.
2. Wash and dry your whole watermelon
3. With a sharp knife slice the top and bottom off of your watermelon.
4. Standing your watermelon up trim off the dark green rind from the sides.
5. Keep trimming off the sides and all of the light green rind until you have a nice cylinder shape.
6. Pat your watermelon with paper towel to remove excess moisture.
7. Place your prepared watermelon on a cake plate.
8. Spread cold whip cream all over the watermelon cake with a rubber spatula.
9. Garnish with berries
10. Refrigerate until you are ready to serve your cake!
prouditaliancook.com
recipe via Pinterest


FRESH WATERMELON POPSICLES
| Makes a lot! |
Ingredients:
-small seedless watermelon, cut into triangles
-1/3 cup dark chocolate chips
-1-2tsp coconut oil
-flaked sea salt
-dried rose petals
Directions:
1. Pierce watermelon slices with popsicle stick, place on a wire rack over a large cookie sheet.
2. In a double boiler over low heat, melt the chocolate & coconut oil.
Use a spoon to drizzle chocolate over the watermelon triangles.
3. Sprinkle with flaked sea salt and dried rose petals. Place in freezer for 20m to harden.
4. Keep covered in freezer for up to a week!
5. Enjoy
bromabakery.com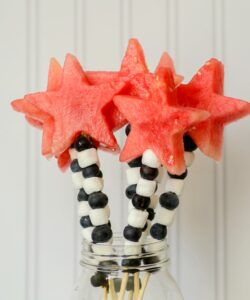 recipe via Pinterest
STAR SPANGLED FRUIT KABOBS
| Make as many as you Need |
Ingredients:
-one seedless watermelon
-mini marshmallows
-blueberries
-wooden skewers
-star shaped cookie cutter
Directions:
1. Start by slicing your watermelon in several circular slices
2. Use your star shaped cookie cutter to make your watermelon stars
3. Alternate blueberries & mini marshmallows on your skewers
4. Top your skewers with watermelon star
5. Repeat, eat, enjoy!
almostsupermom.com