When we were designing our home one of the first rooms we allotted space for was our home gym. I mean, we were building our dream home afterall… I was going to get my dream gym! Tons of room to move around while doing 21 Day Fix or PiYo or ChaLEAN Extreme streaming from Beachbody on Demand and of course, plenty of room to swing around free weights and get under the squat rack. And it turned out perfect. In fact, it ended up being a gym I loved spending time in, daily.
I've joined gyms before and quit. Or just stopped going. I hated getting there or being there or just having to take the time away from work or family to make it there. Having a home gym in my basement meant never having to leave home or make up an excuse as to why I wasn't gonna workout that day.
And just to keep things fun… this was my boldest paint choice in the entire home!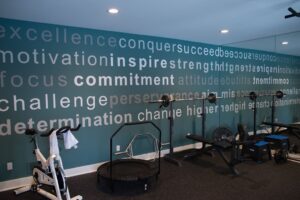 The word wall was an after thought. I mean, I knew I wanted one, but we just ran out of time before our home was featured on Parade of Homes, so I purchased it this past fall. And then it sat in the gym in an huge roll for several weeks. Finally, before Thanksgiving, Jeff and I got brave. We decided to measure and layout the word wall one Sunday afternoon. Six hours and nearly one divorce later, it was done. We love how it turned out though and now our gym feels complete!
So beyond some fun paint, a big mirror, cushy flooring & inspiring words, what do you need?! Well, I happen to love access to Beachbody On Demand–I can just stream workouts like P90X, Insanity, 21 Day Fix and more right into our gym. Of course, we have free weights and bands, a bench and stability ball, and some other fun stuff… but the majority of our workouts are 30, 60 or 90 day programs that keep us mixing it up & motivated.
And well, long before I ever had a real "home gym" I worked out in my basement overtop Barbies while my girl's played. Those were the best days, so don't let your lack of dedicated space or equipment deter you. I started about 6yrs ago working out at home with 5lbs weights and a program on DVD. Where there's a will… there's a way!