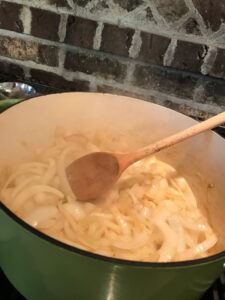 On a chilly winter day there's nothing I love more than making soup and my husband's favorite soup just happen to be French Onion, which he loves to order while dining out. The thing is… it's always so salty and probably not the healthiest choice, so I decided to start making my own at home. And well, this soup is now his favorite. Go me.
And yes, of course, you can make your own bone broth in advance for this soup and it's wonderful. I love making beef bone broth and even freezing the extras in 16oz containers, but just in case you do not have homemade bone broth on hand this recipe will give you my tried & true shortcut. Yes, I have made it this way and it still tastes amazing!
I also do not top my French onion soup with bread or toast either since I'm grain-free, but obviously you could top it with bread and then cheese.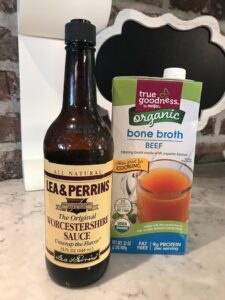 Ingredients:
1tbsp avocado or olive oil
1 white onion, sliced
2-3 yellow onions, sliced
1 clove garlic, minced
1/4 cup Worcestershire sauce
16 oz organic beef bone broth
1 packet organic beef broth concentrate
8 oz water
sea salt to taste
Havarti cheese to top
Directions:
1. Heat a large stock or dutch oven over medium heat with olive oil
2. Slice all onions and begin to cook over medium heat, stirring frequently so they do not burn
3. Once the onions begin to soften add garlic, Worcestershire sauce, then bone broth, water & additional beef broth concentrate for taste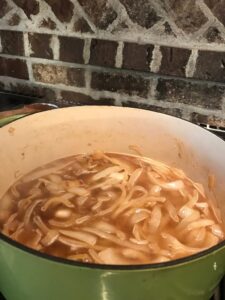 The soup ready to cook down.
4. Stir, then cover the pot to let the soup begin to cook down a bit and infuse flavor into all the onions
5. After 30-40 minutes check your onions and stock. The soup should have reduced a bit. At this point do a taste test, add sea salt, if needed.
6. Ladle bowls and top with a slice of Havarti cheese, which will just melt.
Note: If you'd like to add a slice of bread to the top of your soup then use an oven safe bowl. Ladle in your soup, add slice of bread and then top with havarti and place in a hot oven for 3-5 minutes to melt cheese.

Serve with a side salad for an easy weekend dinner!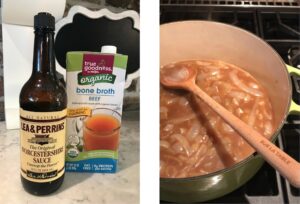 Bone Broth French Onion Soup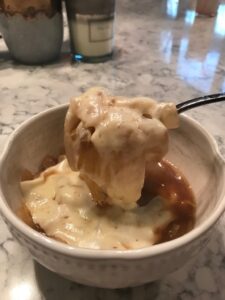 Ready to eat, ENJOY.