Have a sweet tooth but want to stay on track? Did we just become best friends?! I swear I have the biggest sweet tooth, especially for all things chocolate or cake. But if you're a girl who has healthy goals you can't exactly each cake often and get results. Or can you?! Well, I've got good news! If you have 10 minutes and a bag of Shakeology on hand you can create this amazing chocolatey gooey mug cake.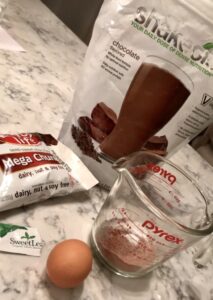 Chocolate Shakeology Mug Cake
-1 scoop vegan chocolate Shakeology
-few drops of pure vanilla extract
-1 packet of Sweet Leaf Stevia
-almond, cashew or coconut milk
1. In a small pyrex bowl combine 1 scoop of Shakeology plus baking powder, baking soda and packet of stevia. Mix thoroughly.
2. Add in a few drops of pure vanilla extract, 1 large egg and a splash of almond milk. Then stir. Add more almond milk, if needed. This should have a cake batter like consistency and you should be able to stir it easily.
3. Add in a teaspoon of dark chocolate chips. Stir.