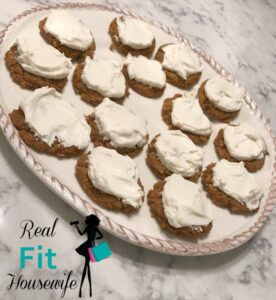 Move over PSL (Pumpkin Spice Latte) cuz I never thought you were all that tasty anyway. I'm a cookie girl.
And truth be told, I love almost anything pumpkin in the fall. I would mostly love to enjoy pumpkin flavored baked goods, but since going grain-free I've realized there are no treats out there I can eat. So I decided create my own!

These are super simple, best served cold and remind me of pumpkin pie on Thanksgiving topped with whipped cream. They're a perfect sweet treat for the fall or around the holidays, so if you're grain-free like me you've gotta try them.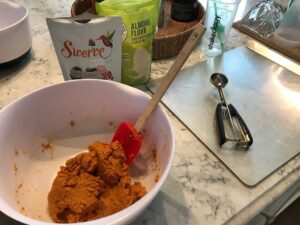 Grain-Free Pumpkin Pie Cookies
Ingredients:
1 15oz can pure pumpkin puree
3/4c. almond flour
2tbsp coconut flour
1/4c Swerve, confectioners
1 egg
1tbsp coconut oil
1/4tsp baking powder
1/4tsp baking soda
1/2tsp vanilla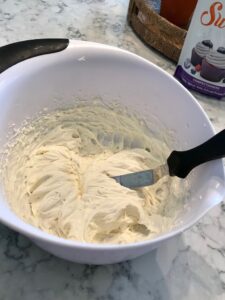 For whip cream frosting:
6tbsp coconut milk
3tbsp Swerve, confectioners
1/2 tsp vanilla
NOTE: If you would like a DAIRY-FREE frosting just whip up a can of coconut milk with 3tbsp Swerve! The cream cheese definitely makes these more decadent for the holidays.
Directions:
1. Preheat oven to 350 degrees
2. Combine pumpkin, egg, vanilla and coconut oil.
3. Combine in coconut flour, almond flour, Swerve, baking powder and baking soda. Mix until fully combined. I do this by hand with a spatula. This batter is fairly wet.
4. Use a cookie scoop to scoop batter onto a non-stick cookie sheet. Then, using the flat bottom of a measuring cup, press the cookie balls flat.
5. Bake the cookies in a pre-heated oven for 24 minutes.
6. While your cookies bake prepare your frosting, so in a medium bowl combine the cream cheese, coconut milk (or heavy whipping cream), swerve & vanilla. Whip with a hand mixer until full combined. Set aside.
7. After baking allow your cookies to completely cool before transferring them to a plate to chill in the fridge.
8. Frost chilled pumpkin cookies with your whip cream frosting
9. Store cookies in the fridge for up to one week in an air-tight container
10. ENJOY!!!!
From our family to yours, enjoy and Happy Thanksgiving!