Guess who recently lost 25+ pounds?! THIS GIRL!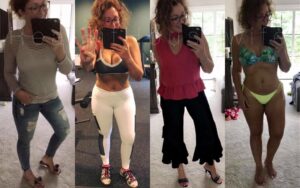 And I did it by implementing some SERIOUS, but super simple, habits into my life. That's why I'm SO excited to be running a NEW free live challenge, starting this coming Monday, where I'll be sharing EXACTLY what I did to make it happen and how YOU can do it too.
• How to turn your body into a fat burning machine EVERY morning!
• The EXACT foods I eliminated from my diet to get FAST results and what I ate instead!
• The workout combo that helped me see changes in my body RIGHT AWAY.
• How committing to small goals made a HUGE impact in my health, life, and mindset.
• Why discipline in your habits actually gives you FREEDOM.
At the end of the 5 days together, I'll even be picking ONE lucky winner to receive my personal favorite 3-day detox program, YAY!
Click here to save your spot –>