There's no doubt about it my family loves meatloaf night. It's so simple to make, but yet… warm and hearty and the perfect comfort food. The same thing can be said about mac & cheese. Thing is, many meatloaf recipes are loaded with fat and mac & cheese if usually never gluten-free friendly, so I took a few classics and whipped them up MY style. My family isn't gluten-free, but I am so making gluten-free food that tastes as good as the original is key.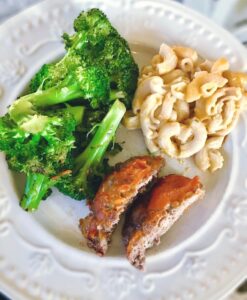 Get ready to rock your family's mealtime with these two classics!
21 Day Fix Approved (also gluten-free) meat loaf:
Ingredients:
-1.5lbs lean ground turkey
-1/4c. gluten free quick oats
-2tbsp simply heinz ketchup
-1tsp mustard
-1 egg
Directions:
1. Pre-heat your oven to 350
2. In a large bow combine all ingredients.
3. Mix with your hands, then form into a loaf.
4. Bake for 50 minuted covered with foil, then remove foil and top with my secret sauce (optional of course, but my family loves it!)
Secret sauce is 1/4c ketchup, 1/4c mustard, 2tbsp honey.
And last, but certainly not least my mac & cheese. It's not required you serve this as a side. In fact, many times I just do potatoes or a sweet potato, but on those days I have a wee bit of extra time… it's a treat. And the leftovers are perfect for chilly winter days alongside a salad or soup.
Homemade Gluten-free Mac & Cheese
Ingredients:
-gluten-free elbow noodles (I prefer a rice noodle)
-unsweetened almond milk
-Earth Balance soy-free butter
-cheddar cheese (dairy free if u like)
-Homemade bread crumbs from dried gluten-free bread
Directions:
1. Boil your noodles according to direction, let cool
2. Butter a baking dish with a bit of spray or butter
3. In a sauce pan combine 1tbsp butter plus 1 cup almond milk, a little garlic powder, plus sea salt and then slowly add in 1 cup cheese while stirring
4. Arrange noodles in your baking dish
5. Once sauce is all combined pour over your noodles
6. Top noodles with homemade bread crumbs and a few extra sprinkles of cheddar cheese
7. Bake at 350 for 20-30m until cheese is bubbly
21 Day Fix Conversion:
1 slice of Meatloaf: 1 red
1 serving of mac & cheese: 1 yellow, 1 blue
ENJOY!!