Comfort food at it's finest, but let's face it… that big bun on any sloppy joe just adds lots of calories and carbs and little nutrition. So if you're looking for a healthier alternative or you're following paleo or whole 30 plans, this is perfect for your dinner table.
My girl's thought these were good. My husband ate all of the leftovers. And I just loved that it was easy to prep and gluten-free!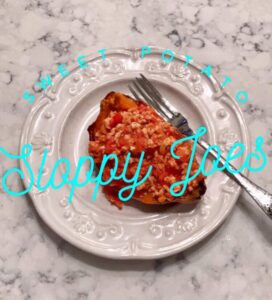 Ingredients:
-4 washed sweet potatoes
-1 lbs lean ground turkey
-2 large carrots, chopped
-1/2 large onion, chopped
-1 red bell pepper, diced
-8oz fire roasted tomatoes
-1/2 tbsp red wine vinegar
-1 tbsp ketchup
-1 tbsp worcestershire sauce
-sea salt, ground pepper & salt to taste
Directions:
1. Place sweet potatoes in a baking dish and bake for 45m or so at 400 degrees
2. In a separate pan on the stove brown your lean turkey, once cooked begin to add your chopped & diced veggies, plus your canned fire roasted tomatoes. Let this mixture cook for 10 minutes on medium heat.
3. Then add the vinegar, ketchup, worcestershire sauce and stir. Add seasonings & stir. Simmer on low until ready to serve.
4. Remove cooked & cooled sweet potatoes and slice them in half, lengthwise. Smash open with a fork 1/2 a sweet potato and then top with the sloppy joe mixture.
5. ENJOY!
Makes 8 Sweet Potato Sloppy Joe Boats.
21 Day Fix/Portion Fix Conversion
1 yellow
1 red
1/2 green