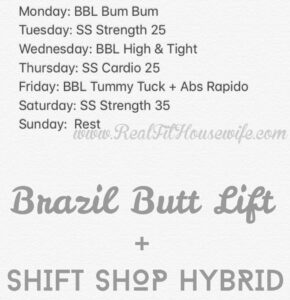 After sharing my Shift Shop transformation with you here and after having such awesome results with the program I decided I'd like to turn this program into a few hybrids. My first hybrid with Shift Shop was with PiYo, which I blogged about here. But one of my all-time favorite booty sculpting programs has always been Brazil Butt Lift, so I knew pairing the two could be a lot of fun. And between you and me, I think the
Brazil Butt Lift core work is some of our most comprehensive, so I added that in too.
I mixed the fun and booty burn from Brazil Butt Lift with the killer cardio and strength work from Shift Shop. If you try this hybrid I'd love to hear your thoughts, but ultimately after doing this hybrid for three rounds I was pretty pumped with my results.
I've always had a booty. Like even from my teen years I remember being picked on for having curves. And let's just saying, having babies and getting older definitely filled out those curves, which were fairly lumpy there for awhile, but now I knew I had to shape them. I may have been blessed with a booty, but what's the point if it's not perky and not dimpled.
I took this picture part-way thru the 2rd round of my BBL/SS hybrid and I've been so pleased with it truly helping to shape my core and glutes. I feel like even my legs look more sculpted and lean.
So, fire up your Beachbody On Demand and try my hybrid before spring break is here. And if you don't have a Beachbody On Demand subscription yet or you'd like to try Shakeology, then make sure to use my "Contact Me" form and let's chat. I'd love to help you build your best body yet!