Who doesn't love no-bake cookies?! I know I do. I mean, first of all, you don't have to bake them. You can whip up a batch for treats for your family in 10 minutes or less and bonus, with these cookies… they're healthy for you too! The trick is to only eat one or two and not the whole batch!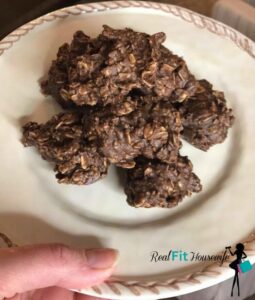 Shakeology No-Bake Cookies
Ingredients:
– 2 scoops Chocolate Vegan Shakeology
– 2 1/4 cups oatmeal
– 1 cup natural peanut butter
– 3/4 cup honey
– 1/2 cup coconut oil
Directions:
1. Melt peanut butter, honey and coconut oil in a sauce pan over low heat. Stir consistency to ensure no sticking.
2. Once melted remove from heat and let cool.
3. Add Shakeology and oatmeal, stir.
4. Drop spoonfuls of your no-bake cookie mixture on wax paper on a cookie sheet.
5. Place in fridge and allow your cookies to chill.
Then…. ENJOY!
You may store these cookies in the fridge for up to a week in an air-tight container. But good luck, my family cannot keep their hands out. In fact, my girls had no idea I even snuck Shakeology inside, but I truly love that I can not only make them gluten free, by using gluten-free oats, but they're also dairy-free too!
21 Day Fix/Portion Fix Conversion:
1 cookie = 1 tsp oil