Kid tested!
Meal Plan approved!
I just created my best yet protein-packed powerball bites recipe and I'm so excited to share my recipe with you. I made a batch last night before family movie night and didn't even mention what was in these, but my girls asked for one… and then another. Add in the fact that these quick energy bites require no baking means you can make them even if you're short on time. After school for snack time?! Sure! Having a sweet tooth craving? Whip them up! Girls night in? Heck yes! Trust me, these are always a hit!
Here's the recipe:
Shakeology Powerball Bites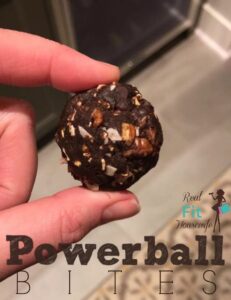 Ingredients:
– 1/2c chocolate vegan ShakeO
– 1/4c oats
– 1/8c unsweetened flaked coconut
– 1/8c chopped pecans
– 1/8c mini chocolate chips
– 2tbsp honey
– 6 dates, pitted
– 1/4c almond butter, sun butter, etc
– splash almond milk
Directions:
1. Combine all dry ingredients in a large bowl.
2. Mix in almond butter, puréed dates & honey. A splash of almond milk to help combine.
3. Use your hands!
4. Roll into small balls, approx 24.
5. Store in an air tight container in the fridge for up to 10 days.
Portion Fix/21 Day Fix Conversion:
1/2 Orange
1/2 Blue